I mentioned in a previous post that Derik and I's 3rd year wedding anniversary is coming up soon-August 16 to be exact. I've decided to share my gorgeous engagement photos taken by the legendary (hands down one of the best photographers I know) Alec Vanderboom. I couldn't have been more happy with our session-Alec thinks of everything!  He is dedicated to tell a story every time he takes a photo session, and if you've taken a peek at any of his photos, you'll see it right away. I love his creativity and genuine love for photography!
Before we get started, let me tell you a little bit about our love story.
I met  Derik my freshman year in college. We were both part of the same work-study program at school, and were actually assigned the same work station. He was pretty much the most attractive guy I've ever met, and I always felt a little weird being around his presence (by the way he'd totally laugh at me right now if he was reading this). We became friends a month or two later after hanging out with the same group of people.
For the next three years, we only hung out occasionally, mostly in a group setting. Every once in a while we'd get together to play guitars or something, but that wasn't very often. He dated people, I dated people.
In December of 2009 (my Senior year) something changed. We started texting each other more, hanging out maybe once or twice a week. Then he kissed me. Once your 'friend' kisses you, everything pretty much changes and can go one of two ways: morph into a relationship, or go down the drain. Welp, lucky for him I couldn't resist his charms, and we began unofficially dating.
I say unofficially because he never actually asked me to be his girlfriend. We didn't even put it on Facebook until March because everyone knows it's not official until it's on Facebook. Believe it or not, I honestly didn't think things would last with Derik. We both had totally different plans about the future (he was actually supposed to come here to South Korea after graduation, and I was going to a music school in Australia), and to be honest, weren't looking for anything serious.
But then he asked me to join him in South Korea. I remember this day quite vividly. We were sitting on my couch in my condo, and I told him, "You know if I go to Korea with you we'll have to be married." He calmly answers, "I know," with a shrug of his shoulders. I smiled and nodded, but inside I was FREAKING OUT. Does this mean he loves me? He had been totally thinking about the future and long term, and here am I over here thinking I'd be lucky if this lasted 4 months.
He proposed to me three weeks later on April 17, 2010 (basically as long as it took to get my ring resized) on the bank of a river while we were hiking one day. If you do your calculations you'll realize I had one day shy of a four months to plan a destination wedding in the Portland, Oregon area, while I was currently living in working in Branson, Missouri.
Challenge accepted.
Part two of our love story coming soon!
—————————————————————————
Welcome to the
FRESH FACE FRIDAY BLOG HOP!
Rules for hopping:
1| Follow your host & co-hosts (first 3 links), pretty please! 
2| Link up your blog's homepage or Bloglovin' page.
3| Hop around, meet new bloggers, and leave them love!
4| Have fun? Spread the word and share this blog hop with your friends!
5| Want to be a co-host? Click here for more info! 
Spots are currently 25% OFF with code HEATWAVE!
Grab a button and share the blog hop love!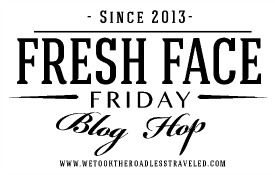 Tweet about this blog hop!
Tweet