Well, I'm officially back from an 'almost' week in Japan. You may have noticed the lack of my presence around these parts, but our trip was rather sudden! It was a fantastic way to relax over the Korean holiday. While I wade through emails, design requests, and comments, it only seemed fitting that I'd have a guest poster!  Mrs. B purchased my Saturday Takeover spot a couple weeks ago, and she was scheduled to write today. I received her email while hanging out in Osaka, and wouldn't you know it but her guest post was about Japan!!!  Perfect. Fitting. Lovely. I'll let her introduce herself, but please enjoy! I'll be writing my own Japan posts as soon as I finish Borneo. The life of a traveler!
——————————————————————————-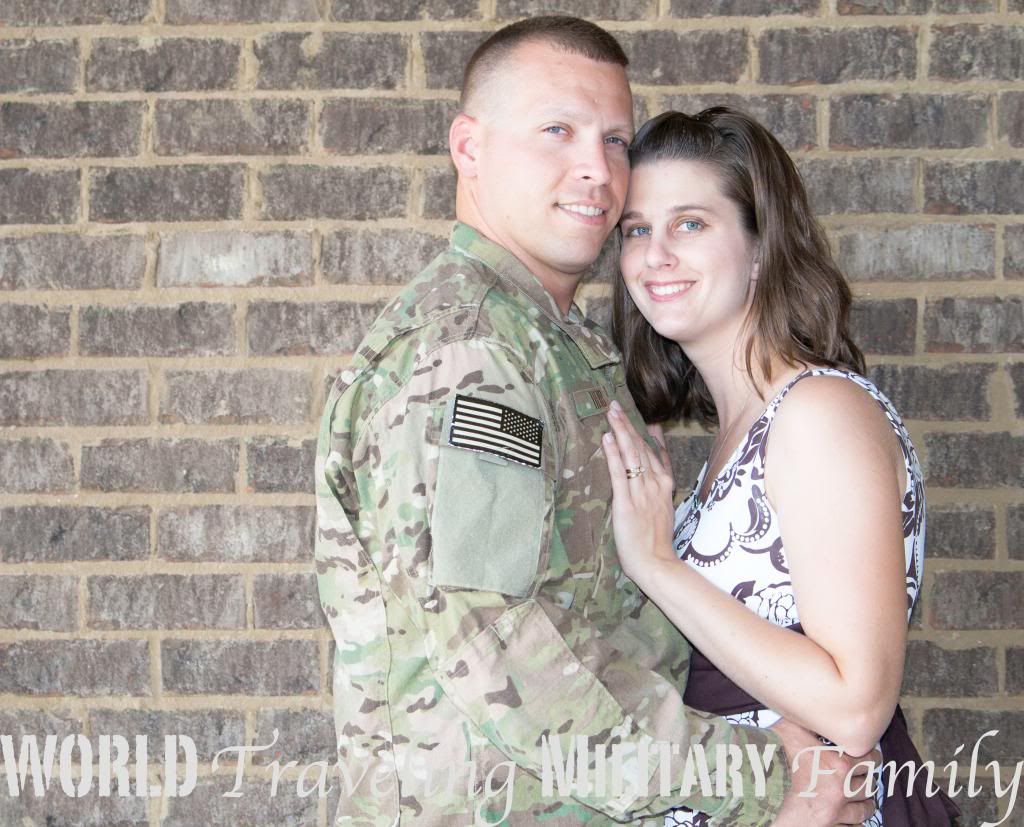 Hi all! I'm Mrs. B from World Traveling Military Family, I'm so excited to be guest posting today! We are a military family and have lived in many places including Alabama, Iceland, Japan, and are heading to Germany in November 2013! Want to follow our adventures? You can find me here: Twitter  |  Instagram  |  Facebook  |  Pinterest  | and even on Etsy!
Today I wanted to share with y'all (an Alabama term I've picked up from my time here, LOL) some of our misadventures from our time in Japan. Traveling in Japan is quite exciting and fun, although we have been known to have a few misadventures along the way. I wanted to share a few of our 'mishaps' so that if you have the wonderful opportunity to travel in Japan you can learn from our mistakes. Or you can just visit it vicariously and chuckle through our mishaps!
Our first mishap was experienced outside a local temple near Lake Towada. As we were walking out to the lake we passed by it and noticed a Dragon Water Fountain in front of it. We thought it was so great that they had a water fountain in front of the temple for everyone to use. Mr. B & Boo decided to try it out, and not only did they have a fountain but a cup on a stick as well! They both had a refreshing drink and we went along our way.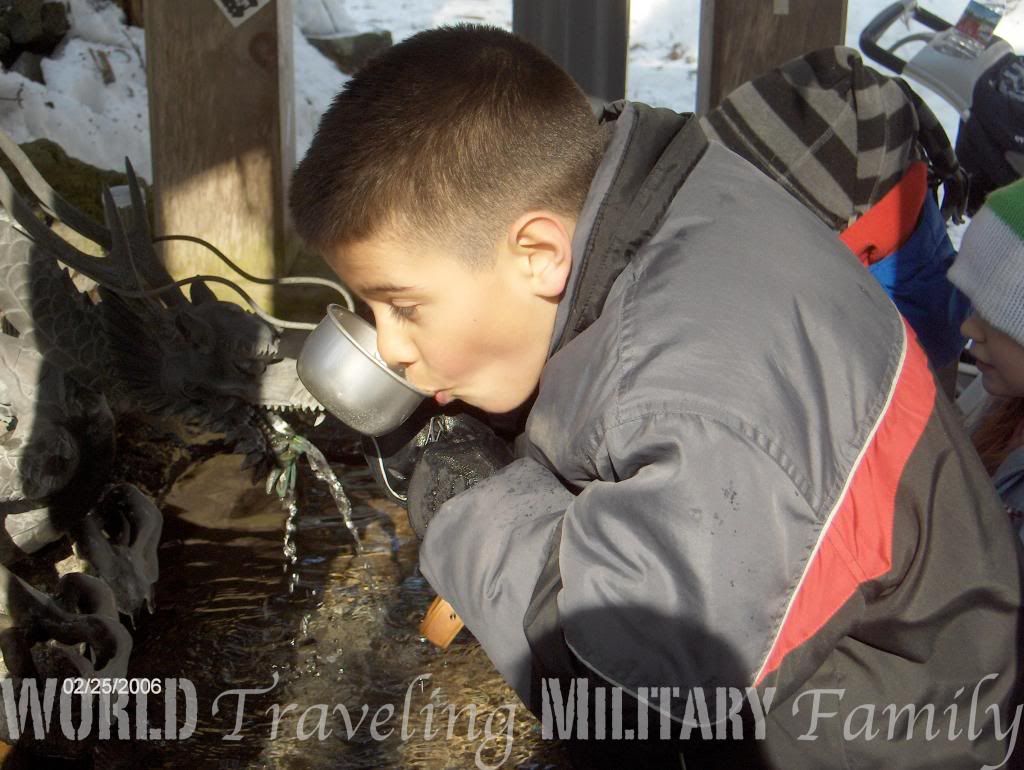 As we were coming back up the path I noticed some Japanese women at the Dragon Water Fountain, but they were not drinking from it, they were washing their hands! Turns out it's not a water fountain after all, but a place for people to wash (or purify) their hands and mouth by spitting, not drinking the water! We started to wonder if Mr. B & Boo would get sick from drinking the water, thankfully they didn't, but we learned a valuable lesson that day! Look for locals and see what they are doing before you decide you know what your doing.
Our second mishap involved traveling on back roads and some misinformation. The mountain regions of Japan get lots of snow and you'll find that there are many snow festivals offered. These are fun to go check out and great for a day trips. Now if you are friends who have traveled with us then you know that we get lost at 'least' once a trip, that's just par for the course with us. This misadventure took the cake though and I thought for sure our friends would never travel with us again!
While traveling home (about a 1 hour trip from where we live) from the snow festival, Mr. B decided that he wanted to take a shortcut he'd read about in the base paper. Apparently he had read that they were clearing the mountain roads and they were open for use. So we told our friends 'follow us, we know a shortcut home.'
As we're on the shortcut road I started to notice that the snow along the sides of the road seemed to be getting larger and larger, and the roads were pretty curvy. We were communicating with our friends behind us via walkie-talkies. As we drove further on we were now incased in about 30 ft high snow-walled roads and my friend who gets car sick was not having a fun ride! We went around a curve and the 'beast' (our Japanese van) suddenly started spinning a 360 in the road! I grabbed the walkie-talkie and yelled to our friends to slow down so they wouldn't hit us as we spun wildly like a top in the middle of the road! We got straightened out and the 'shortcut' road was on the left, we turned and bam, it's blocked with a metal gate! Two Japanese men saw us and start showing us an X with their arms, which means No in the Japanese culture. We sat there confused trying to decide what to do next, the men walked over and managed with a bit English & Japanese to tell us that the road was still closed. While some of the roads had been cleared, such as the one we were on with the 30-foot walls of snow, it would be a few weeks before they were all clear.
We now realize we have to drive back to the town we came from, an hour trip back in the slow driving conditions, and then back home, still another hour away! So Mr. B's little shortcut added 2 hours to our trip! We got back to town and hit good Ole McDonalds because the kids were hungry and all the adults nerves were frazzled, plus we needed out of the vehicles! We now term that trip home the 'longcut' and I make sure I research any other shortcuts Mr. B comes up with now! Thankfully our friends were not so horrified that they stopped traveling with us, which is beyond amazing, LOL!
The last mishap for today involves culture shock and the value of always being prepared for anything! Shortly after we arrived in Japan we decided to travel up to Oirase Gorge to see the beautiful fall colors. At the end of the pass is a lake where you can ride a riverboat around, use public bathrooms & few other buildings (in pic above). This was our first time using public bathrooms in Japan. As I was walking towards the bathroom with Bea, who was then 2.5 years old, a Japanese lady came up to me and was trying to ask or tell me something. I had no clue what she was saying, which I'm sure she guessed from the confused look on my face, so she thrust a small packet of Kleenex into my hands. It was kinda chilly out so I thought how sweet the Japanese are, sharing Kleenex on that cold day! Little did I know what she knew..
First surprise was walking in to find a squatty potty! Ok, sure challenging as an American adult, now imagine having to help a 2.5 year old American girl, LOL! It was then as I was helping Bea that the 'Ah Ha' moment hit….there was NO toilet paper, it wasn't even offered! These were 'Bring Your Own Toilet Paper' (BYOTP) bathrooms! There weren't even paper towels or hand dryers either. I guess it sure cuts down on waste but dang! I'm SO grateful for the Japanese woman who was so sweet to give me the Kleenex before I went in! Needless to say we never traveled without tissues in our vehicle again!
Top 3 tips for Avoiding Misadventures in Japan
Watch the locals and see what they are doing. For instance if they are not drinking from the dragon water fountain and are instead using it to wash their hands, it might not be a water fountain.
If you think you've found a shortcut make sure you do the proper research. Most mountain roads are often closed during the winter due to snow and ice. Even if it's clear where you are living odds are it will not be up on top of the mountain. Just because the GPS shows a road there it does NOT mean you can use the road 100% of the time. If you're unable to find information online about when the roads are open, stop at a gas station and ask, or ask the locals, they are very helpful!
If locals are offering you something, well besides food (that can be questionable), make sure you take it. They often know what you'll need even before you do and they are a very generous culture! If you're a female make sure you always carry tissues, I learned to keep some in my jacket pocket or in my pants pocket if we were out sightseeing. We stumbled upon many BYOTP places!
I hope you get the opportunity to visit Japan and their amazing culture, it's one place I'd love to live again! Hopefully the next time with less 'misadventures.'
——————————————————————————-
I agree with Mrs. B! Japan is more than amazing. I am so in love with the culture, flow of life, and ehem..food. I couldn't have received these tips from her at a better time, and I hope they'll help YOU on your next trip to this lovely country.
Happy Weekend!